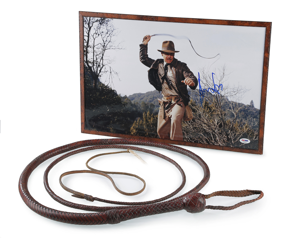 Indiana Jones' bullwhip and Scarface painting are amongst 600 lots of movie memorabilia in upcoming London auction on Tuesday 26

th

September 2017
Harrison Ford's bullwhip from Steven Spielberg's Academy Award-winning adventure sequel Indiana Jones and the Last Crusade is estimated to sell for between £50,000 – 70,000
This iconic piece of film history will be sold alongside props and costumes from some of cinema's most legendary movies including James Bond and Scarface, with the hand-painted Tony Montana portrait estimated at £30,000 – 50,000

Prop Store's Entertainment Memorabilia Live Auction will feature a collection of film memorabilia worth over £2-3 million

A free public preview exhibition presenting over 300 auction lots is now open until Tuesday 26th September at the BFI IMAX in Waterloo, London
Stephen Lane, Prop Store CEO, commented on the upcoming auction

– "

Indiana Jones is without a doubt one of the biggest movie legends of all time, and we're very excited to be featuring his bullwhip from Indiana Jones and the Last Crusade in our upcoming live auction. In addition to Indy's whip, we've got a whole host of iconic props and costumes including a painting of Al Pacino and Michelle Pfeiffer from Scarface which is complete with bullet holes! These great items and hundreds more will go under the hammer at Prop Store's Entertainment Memorabilia Live Auction on 26

th

September 2017 at London's BFI IMAX proudly presented by ODEON."
The Prop Store Live Auction will feature props and costumes from cinema classics including:
James Bond's (Roger Moore) Royal Navy Cap from The Spy Who Loved Me. Estimate £5k – 7k

Tony Montana's (Al Pacino) Green Card from Scarface. Estimate £10k – 15k

Superman's (Christopher Reeve) Flying Tunic from Superman IV: The Quest for Peace. Estimate £8k – 10k

Pete 'Maverick' Mitchell's (Tom Cruise) Flight Suit from Top Gun

. Estimate £20k – 30k
The auction will be live-streamed online for fans to track the bidding on auction day. A free preview exhibition will be open to the public in the run up to the auction showcasing over 300 lots from the upcoming auction. Movie fans and collectors alike will be able to see these incredible pieces of movie history up-close.
The free exhibition is now open to the public at the BFI IMAX, Waterloo, London, England SE1 8XR from 10:00am to 9:30pm, until Tuesday 26th September 2017. Prop Store's Entertainment Memorabilia Live Auction, in partnership with the BFI IMAX proudly presented by ODEON, will also take place at the BFI IMAX Waterloo on Tuesday 26th September from 12:00pm.
The Bearded Trio - The Site For Steven Spielberg, George Lucas, John Williams and a whole lot more.
THE BEARDED TRIO ON FACEBOOK
THE BEARDED TRIO ON TWITTER
THE BEARDED TRIO ON GOOGLE+
THE BEARDED TRIO ON PINTEREST
CLICK HERE FOR FACTS ON STEVEN SPIELBERG
CLICK HERE FOR FACTS ON GEORGE LUCAS
CLICK HERE FOR FACTS ON JOHN WILLIAMS